In this pita bread recipe, we use a stove for heating the bread instead of a hot oven. Our stove is at a better work level than the oven, is easier to access for the short cooking "baking" times without a door in the way, and tends to heat the kitchen less during summer.
Low(er) Carb Pitas
1 cup warm water
1 Tbsp olive oil
(1/2 tsp molasses)
1/2 cup white flour
1/2 cup wheat gluten
1/2 cup wheat bran
1/2 cup oat bran
2 Tbsp flax meal
t Tbsp spoonable Splenda
1 1/2 tsp yeast
1/2 tsp salt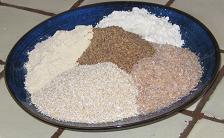 Add liquid ingredients to bread maker, then dry ingredients. Process on dough cycle. (Adjust water or flour as desired for a medium pliable dough.)
After first rising, divide into 6 to 8 balls and let rest 15 minutes, covered with a cloth. On a lightly floured surface, roll each ball into a pita-sized disk of uniform thickness, about 20 to 24cm in diameter. Let rest for 20 minutes, covered with a cloth, not stacked on top of each other.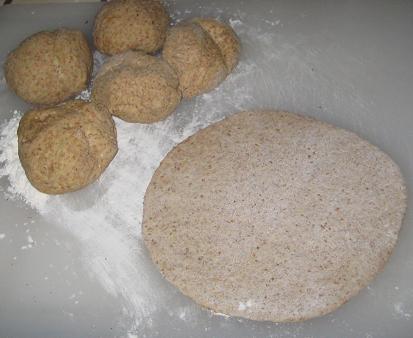 Here is the tricky part: Heat a large heavy (non-stick) un-greased fry pan on the stove to high or medium-high heat. Place one of the disks onto the pan for a minute or so, until small bubbles start to appear in the dough,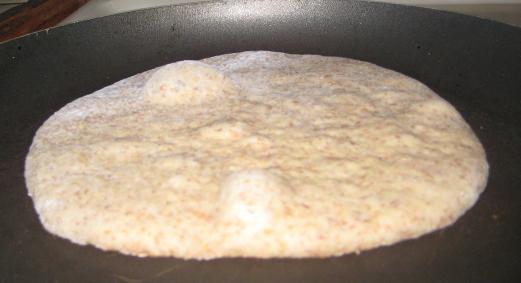 and then immediately gently flip over. The pita "should" puff up the rest of the way like a balloon, forming an inner pocket, after another minute or two. Set aside to cool and repeat process with remaining disks, one at a time.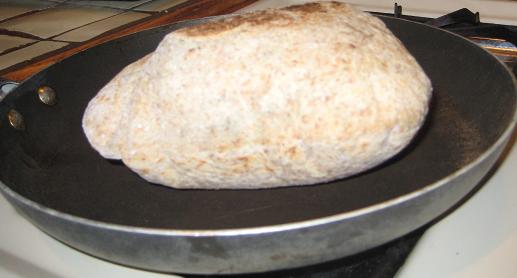 If pitas do not puff consistently, try adjusting these variables: pan temperature, gluten ratio, resting time, thickness of disk.
Related Posts: What We Bake 4, 3, 2, 1
The Fresh Loaf has great pita tips. Carb-Lite has many wonderful low-carb bakery recipes.