The purpose of this project is to allow the Motorola/Tracfone V176 cell phone to be charged through a USB port.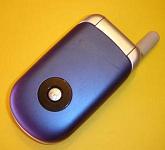 Recent Motorola cell handsets (RAZR, W370, etc.) already provide a mini-USB port for charging. Future cell phones will standardize on the micro-USB connector. Standardizing on USB for charging has certain advantages:
No need for another wall-wart charger using another space (or two) on your power strip.
Eliminate the phantom power drain of a wall-wart charger, which draws a watt or so of power whether or not a device is plugged in for charging.
Travel with a single charger (or laptop) for all your electronic toys: iPod, camera, and cell phone.
Now you can use portable chargers such as the Altoid charger or Minty-Boost charger.
USB Standards
A USB port can supply 100mA at 4.75 to 5.25volts. A higher current, to a maximum of 500mA, can be drawn if the port follows a particular handshaking protocol.
| | | |
| --- | --- | --- |
| Pin | Color | Name |
| 1 | Red | VBus(5V) |
| 2 | White | D- |
| 3 | Green | D+ |
| 4 | Black | Gnd |
V176 Charging Requirements
[See rest of article.]