Although we enjoy virtual wind chimes, the real thing is good, too. We recently happened upon a book containing a wealth of information on the design and construction of wind chimes, which we can recommend without reservation. Wind Chimes: Design and Construction, 63 page paperback with audio CD, by Bart Hopkin. We have been a fan of an earlier Hopkin book, Musical Instrument Design, inspiration for several science fair projects in our family, and were pleased to find this latest offering.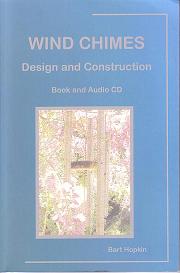 The author discusses several materials for chimes, tuning methods, construction techniques, and related basic music theory and physics. A number of photos of chimes are included, accompanied by sound recordings on the CD.
We are now inspired to build our own chimes, and will report results in later blog entries.