Plenty of others have griped about unreasonable software licenses, but vendors are slow to reform. We recently needed to review the licenses of some key software packages we use, as we move to a new computer and new operating system, to make sure we are licensed to install on the new machine, or need to transfer licenses, or need to de-install first from the old machine, or purchase another copy of the program.
Here are some favorite clauses we encountered. First, let's get this out of the way:
LEGAL DISCLAIMER: WE ARE NOT LAWYERS, AND NOTHING IN THIS POST SHOULD BE CONSTRUED AS PROVIDING LEGAL ADVICE. CONSULT YOUR ATTORNEY FOR LEGAL QUESTIONS.
To protect the guilty, we will not identify software vendors, but you can try guessing if you wish. At least one of these is a pretty major software title considered essential by a number of small businesses.
If you later decide that you do not want to receive future Communications electronically, write to us at XXXX. Clearly state your desire to withdraw consent of electronic communication. If you withdraw your consent to receive Communications electronically, we may terminate your use of the Software and Third Party Services.
Let me try to understand: If I object to being contacted by e-mail or other electronic communication (Is telephone electronics?) you threaten to terminate my software license without warning and without a refund? Doesn't sound like a very good deal to me.
For details about XXX's privacy policies, please refer to the XXXX Privacy Statement contained either in the Software, at XXX, or the privacy policy link on the XXXwebsite relating to the Software product you purchased. You agree to be bound by the applicable XXX privacy policy, as it may be amended from time to time in accordance with its terms.
Oh, we know you are too busy to check our privacy policy very often for changes. We just modified the policy to permit us to publish your personal information to the web, and you gave us permission. Too bad you didn't check.
XXX shall have the right to change or add to the terms of its Agreement at any time (provided that it is not XXX's intent that such change substantially affect the license rights granted to you in Section 1 and for which consideration was paid by you), and to change, delete, discontinue, or impose conditions on any feature or aspect of the Software or Services (including internet based services, pricing, technical support options, and other product-related policies) upon notice by any means XXX determines in its discretion to be reasonable, including sending you an email notification or posting information concerning any such change, addition, deletion, discontinuance or conditions in the Software or on any XXX sponsored web site, including XXX.
And perhaps next week we will disable the file-save feature. This won't affect the license rights in Section 1. We'll bury the notice in the forum section of our web site. In a couple of weeks we might disable file-open feature.
INDEMNITY. This Software, Application and the Services (as defined above) are intended for use only with properly licensed media, content, and content creation tools. It is your responsibility to ascertain whether any copyright, patent or other licenses are necessary and to obtain any such licenses to serve and/or create, compress or download such media and content. You agree to record, play back and download only those materials for which you have the necessary patent, copyright and other permissions, licenses, and/or clearances. You agree to hold harmless, indemnify and defend XXX and XXXX, and each of their respective officers, directors and employees, from and against any losses, damages, fines and expenses (including attorneys' fees and costs) arising out of or relating to any claims that you have (i) viewed, downloaded, encoded, compressed, copied or transmitted any materials (other than materials provided by XX or XXX) in connection with the Software or Application in violation of another party's rights or in violation of any law, or (ii) violated any terms of these license agreements.
Our product may have violated some company's software patent, but we're not worried because you just agreed to indemnify us against claims.
What About Us?
How can Sagebrush improve our own software license?
Update the wording. Perhaps our license doesn't have too many objectionable phrases, but we could revise for simple language and clarity, not to mention brevity. If you have suggestions for changes, or have an example of a really clear license, let us know. The main point we want to get across is that you can install our program on more than one machine, as long as it is actually running in computer memory on only one machine at a time, for each software license purchased.
Improve the display. Microsoft's installer displays the license with topic headings in bold font, in a standard topic order, rather easy to scan.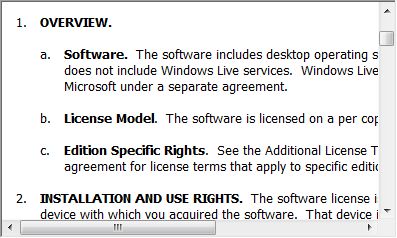 Include in help file. We include the software license in the installer, so you could go back and refer to it at any time by running the install and then cancelling after the license screen. Better, though, is to include as a topic in the the HtmlHelp file. We did that for a while on some software titles, but ran into problems where the license was updated one place but not in another.
Display on web site. Customers should get the chance to glimpse the license restrictions, if they desire, before even evaluating the program. We haven't done this yet for reasons of synchronization issues (as in help file) and inertia, but it wouldn't be a bad idea.