Although developed for Windows, Recall-PRO can be executed on the Linux operating system using the free Wine software compatibility layer. RecAll-PRO + Wine should also work on other flavors of Linux, but for the purposes of this article we focus on Ubuntu because of its current popularity and for the simple reason that some of our development machines uses this flavor. The procedure described has been tried on Natty Narwhal (version 11.04), Maverick Meerkat (10.10), and Oneiric Ocelot (11.10).
First, Wine must be installed. (We tend to use Synaptic Package Manager, but old-time Unix hands will open a Terminal Window and type "sudo apt-get" commands.) Start Synaptic Package Manager and enter "wine" in the search text field.
Select "wine1.3" (or later) and click the Apply button.
Download the latest RecAll-PRO install executable using your favorite web browser. In Linux, EXE file downloads do not have executable privileges, so we have to change that now. Go to the Downloads section of your browser and <right-click> -> Open containing folder. (Note: Changing file executable permissions may not be necessary on recent versions of Ubuntu+Wine.)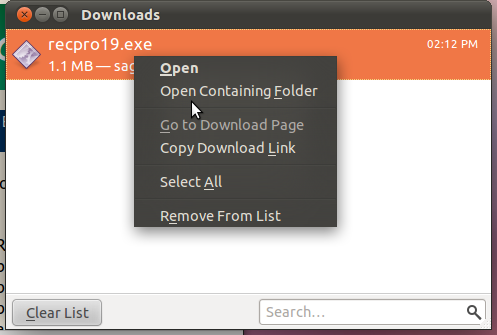 Click the "Allow executing file as program" control.
In the folder, do not try to launch the RecAll-PRO EXE directly, but <right-click> -> Open with Wine Windows Program Loader.
This will start the installer to load RecAll-PRO and its help file on your computer.
Most features work as expected. MP3 recording does not work at present– perhaps later we will figure out how to access an Mpeg ACM codec under Wine. Vorbis and Speex compression work fine, because they do not rely on external codecs.
To start RecAll-PRO after installation:
Oneiric Ocelot (11.10) and the Unity desktop (and presumably all later versions): Use the Dash home button and start RecAll-PRO as with any native application. Coolness!
Natty Narwhal 11.04 and the Unity desktop: The first Unity iteration did not seem to have the best support for Wine applications. Add back the classic menu using the procedure here, and start using Classic menu-> Wine-> Programs-> Sagebrush-> RecAll-PRO.
Maverick Meerkat (10.10) (and possibly earlier versions) : Click applications menu-> Wine-> Programs-> Sagebrush-> RecAll-PRO.

Note: Earlier versions of RecAll-PRO had a problem displaying properly with Linux+Wine, as shown below. More recent versions (v1.9 and later) do not have the problem.
Fin.