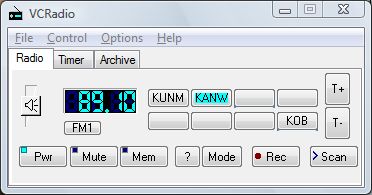 VCRadio TM controls several different PC radio tuners. A built-in timer and recorder allow archiving of radio broadcasts, similar to a VCR.
Take a Guided Tour from the program's author, introducing VCRadio's many cool features, with several screenshots.
Handy features:
Easy-to-use controls, similar to car-radio front panel.
Built-in timer, much easier to use than a VCR.
Built-in direct-to-disk recorder with compression capability.
Programmed station buttons can display call-letters of radio station. Up to 24 pre-programmed FM stations (and an additional 24 AM stations if your PC radio device supports AM).
Context-sensitive help, taskbar tray icon option, optional menu, audio file browser, and many options too numerous to list.
Latest Version —- v2.2
System Requirements:Windows 8/7/Vista/XP, compatible PC radio device,sound card, 1meg free disk space, Pentium or faster. See table below for some radios supported.
Price: $17.95 US total.
Benefits of Registration Most recent version, registration code for for LIFETIME UPDATES, email support, beta versions, good karma.
Radios
Here are some radios supported by VCRadio. Note that some older radio models are no longer being marketed by the manufacturer, but occasionally may still be found for sale on the Internet by doing a Web search.
Model Name
Manufacturer/Distributor
Interface Test w/ VCRadio Where to Buy (USA) InstantFM ADSTech USB XP, Win7 ADSTech PCear Rding Tech Co.,Ltd. USB XP, Win7 dealextreme radioShark Griffin Technology USB XP, no Win7 USB PC Radio D-Link USB XP, no Win7 several places WinTV PVR USB2 Hauppauge USB Vista, XP PCTV USB Pinnacle USB XP Instore Radio21 Gemtek USB XP, no Win7 WinTV/02 Hauppauge PCI
USB TV/FM
several vendors
USB XP try ebay Wizard Radio Gemtek RS232 XP, Win7 JDR MicroSystems RadioMan (AM/FM !!) Gemtek RS232 XP, Win7 PI Manufacturing FM Radio Card Gemtek ISA Jameco Voodoo3 3500 TV 3dfx AGP Cadet PC Radio (Win98/95) ADS Technologies ISA 98 on-line
RadioTrack
Aims Lab
FM Radio Card
Aztech/Packard Bell
Trademark names are the property of their respective vendors. Sagebrush Systems has no affiliation with any of these manufacturers, and all questions about the operation of VCRadio with a particular radio should be directed to
Some radios listed do not have Vista drivers, so Windows version tested with VCRadio will appear as XP (or earlier).
Would you like us to add a radio? Computer radios,unlike some other devices, do not have standardized device drivers under Windows. Therefore we have to write program code for each radio individually.In most cases, the radio manufacturer does not make information available to third-party developers like us on how to control their radio hardware. However,we now make this offer to you:
Send us a radio device that we do not currently support, for us to keep, and we will support it in VCRadio within two months, or we will return the radio hardware. (Contact us by e-mail first, for approval and shipping address and complete terms.) We will also send you one VCRadio registration upon completion of the support work.
Download
Download VCRadio today for a 30-day evaluation:
Click here to download the latest version ofVCRadio(~1189k)
Technical Support
Sometimes sound cards and multimedia can be "an adventure". Go to our technical support page for assistance using VCRadio, Frequently Asked Questions (FAQ), copyright information, and application notes.
Customer Comments
I don't usually make a point of praising software, but your VCRadio program is very well done. I just registered it, and I am extremely pleased with its intuitive, clean interface and useful features. — RJ New York