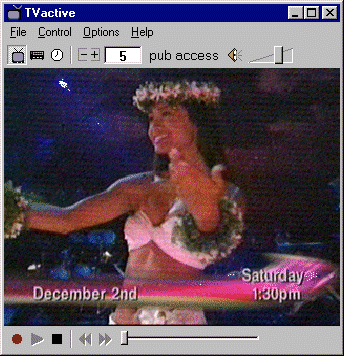 TVactive(TM) controls your computer TV tuner device, and adds a timer and video capture to create a software VCR! Save video files in compressed WindowsMedia format.
Take a Guided Tour from the program's author, introducing TVactive's many cool features, with several screenshots.
Handy features:
Easy-to-use controls.
Built-in timer, much easier to use than a hardware VCR.
Built-in direct-to-disk recorder with compression capability.
Programmed station buttons can display call-letters of TV station
Context-sensitive help, taskbar tray icon option, optional menu, audio file browser, and many options too numerous to list.
Latest Version —- v1.4 for Windows 8/7/Vista/XP
System Requirements: compatible TV tuner, sound card, >2G free disk space for video recording. P2-200 or faster for video recording. Compatible TV tuner cards. More information about TV tuner compatibility can be found here.
Microsoft's free DirectShow must be installed. (DirectShow is part of DirectXMedia. If you do not have DirectShow installed, the program will instruct you how to install this free operating system enhancement. Microsoft's free WindowsMedia Player v7.0 or later should be installed.
Price: $16.98 US total.
Benefits of Registration: Most recent version, registration code for several updates, email support, email notification of version releases.
Download
Download TVactive today for a free 30-day evaluation:
Click here to download the latest 32-bit version ofTVactive (4.4MBytes) for WinVista/XP/ME/2000
If you already have Windows Media Encoder 7, get this smaller TVactive download (990kB)
Technical Support
Go to our new technical support page for assistance using TVactive, list of tested TV tuners, Frequently Asked Questions (FAQ),copyright information, and application notes.