Add an advanced sound recorder to your computer, with lots of bells and whistles.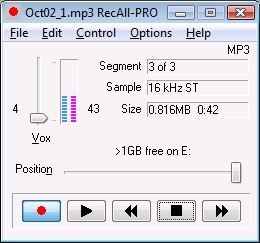 RecAll-PRO (TM) is based on our popular recording program RecAll, adding several features for advanced users, including hot-keys, edit menu commands, game-port control, Vox disable and hide, and sound device driver selection.
Adds these additional features to RecAll AudioCapture (standard-edition):
User-definable hot-keys for starting and stopping recording and playback. This is useful for dictation and transcription, for controlling the program while working in another application.
Game port interface, for interfacing the program to external electronic devices.
Wave driver selection, for systems with several wave devices.
Edit menu commands, for extracting portions of the audio file to a different file. Very fast direct-to-file edit commands.
Take a Guided Tour introducing RecAll-PRO's many features, with several screenshots.
RecAll-PRO can write and read MP3 files, but only if you have an MPEG ACM codec already installed on your computer. This codec comes bundled with some versions of Windows, or may be bundled with other software.
Latest Version —- 1.9 New update
System Requirements: Windows 10/8/7/Vista/XP, sound card with Wav support,1meg free disk space, Pentium or faster, microphone
Price: $29.95 US
(Upgrade price for existing RecAll standard-edition owners is $15.00 US per seat.)
Benefits of Registration: Most recent version, registration code for LIFETIME UPDATES, email support, beta releases, good karma.
Download
Download RecAll-PRO today for a free 30-day evaluation:
Click here to download the latest version of RecAll-PRO
Technical Support
Refer to our technical support page for assistance using RecAll-PRO, Frequently Asked Questions (FAQ), and application notes.
Reviews