Add a voice-activated recorder to your computer.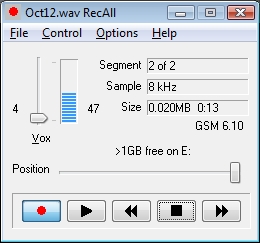 RecAll TM runs in the background, and starts recording when sound is detected from the microphone input. .Wav data segments may be time-stamped. Controls are available for different sampling rates and resolutions, maximum file size, sound activation threshold, and real-time ACM sound file compression, tray icon support.
For those needing even more features, look at RecAll-PRO.
Suggested applications include:
Saving voice notes, hands-free.
Dictation, automatically removing pauses in speech.
Unattended recording of radios/scanners.
Telephone recording.
Latest Version —- 2.9
System Requirements: Windows 10/8/7/Vista/XP, sound card with Wav support,<1meg disk space, Pentium or faster, microphone.
Price: $14.95 US.
Benefits of Registration: Most recent version, registration code for LIFETIME UPDATES, email support, beta versions, good karma.
Download
Download RecAll today for a free 30-day evaluation:
Click here to download the latest version of RecAll for Win7/Vista/XP
Technical Support
Sometimes sound cards and multimedia can be "an adventure". Go to our technical support page for assistance using RecAll,Frequently Asked Questions (FAQ), and application notes.
Customer Comments
I currently use … to track my security company. I find it works great for my needs. — RD Oregon

We have one of our handheld radio's speaker output plugged into the microphone of our sound card. Each of or technicians in the field call in when beginning and finishing work orders as well as information broadcasts. Using the recall program, we have an excellent transcript of our all radio conversations for playback and archive purposes. — JF Texas

Can you believe I used to attach my video-recorder to one of my scanners,and recorded for 8 hours (in lp mode) everything that came over the frequency Iwas currently monitoring. I spent hours and hours listening to that tapes, only to discover that I had sit for 8 hours with my headphones on and as a result came up with one, two or even none useful info. Last Sunday I came across your program RecAll, and I couldn't believe your web page. So I downloaded the program and tested it. It works great. It's just what I needed. — JSNetherlands

I've used the program and by GOLLY it DOES WHAT IT SAYS IT DOES, first time,right out of the box, so to speak. That's pretty darn good, in my book. –VC Virginia